CHORAL WORKS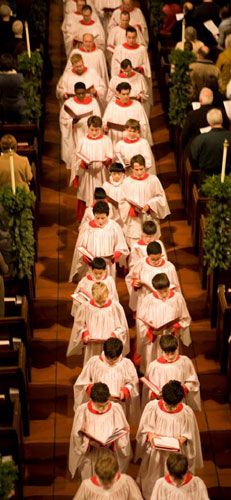 0:00/0:56

0:00/1:19

0:00/1:10

0:00/1:19

0:00/1:22
Eyerly on Choral Music 
"My devotion to sacred music is unusual among those who write for theater. Few composers do well with both - some exceptions would be Handel, Stravinsky and Poulenc. But I see no line between these worlds. I love sacred music, and I love opera and musicals. In fact, sacred music makes all my other works possible." 
— Scott Eyerly 

Spires 
for choir S.A.T.B. and organ 
Duration 20 minutes. Text in English. 
Commissioned by Saint Thomas Church, Fifth Avenue, New York, for its Choir of Men and Boys, and Music Director John Scott. Premiere May 2009. 
Spires is a celebration of churches. The first work of its kind, Spires gathers Biblical, British and American poetry from the Psalms to the present. Its nine short texts, each by a different author, view churches variously as places of refuge (poem 1), worship (2), grandeur (3), even romance (4). The central movement, or keystone of the arch, is George Herbert's "Church-Musick." Perspective shifts to that of boys (6), a penitent (7), and a minister (8), before concluding with Christina Rossetti's vision of the heavenly church (9), which in its metaphorical outlook echoes poem 1. 
While the work is planned as a whole - its verses ordered so as to suggest contemplating, entering, experiencing, and departing a holy edifice - individual movements may be performed separately. Most are suitable for liturgical use; indeed they were so used at Saint Thomas Church prior to the full premiere, functioning as anthems during Eucharist services and Evensongs. 
Among the poets included are Claude McKay ("Russian Cathedral"), Longfellow ("Divina Commedia part 1"), R. S. Thomas ("The Belfry") and Robert Louis Stevenson ("You Looked So Tempting in the Pew"). Of the latter, Eyerly remarks, "When I saw that title, I had to set it!" 
Spires also contains a literary premiere: Mark Jarman's "Benediction." Unable to find a text which would serve as bridge between the bricks-and-mortar churches of poems 2-7 and the transcendent church of poem 9, Eyerly commissioned Jarman to write one. Jarman, an American poet celebrated for such volumes as Unholy Sonnets and To the Green Man, wove into his "Benediction" two lines from a blessing spoken at the end of services by his father, a minister. 
In his program note, Eyerly writes: "I don't believe God exists only in a church. But a church's presence may be seen as symbolizing God's. While composing Spires in Virginia's Blue Ridge last summer, the periodic sight of steeples dotting the hills uplifted me. Spires, like the churches it venerates, is a work of faith." 
Psalm 71
for choir S.A.T.B. a cappella  
Duration 7 minutes. Text in English.  
Commissioned by Christ Church Cathedral, Cincinnati. Eyerly chose the text when, during a period of duress, he resorted to the old "folk" habit of opening a Bible to a random spot and reading what it said for guidance. He landed on Psalm 71 and was heartened by its first words: "In thee, O Lord, will I put my trust."  
Song of Moses  
for choir S.A.T.B. and organ  
Duration 6 minutes. Text in English.  
Ideal for Easter. A dynamic setting from Exodus 15, beginning, "I will sing unto the Lord, for he hath triumphed gloriously: the horse and his rider hath he thrown into the sea..."  
O Magnum Mysterium  
for choir S.A.T.B. a cappella   
Duration 4 minutes. Text in Latin.   
A graceful setting of the Nativity ode.   
MISSA BREVIS (No. 2)   
for treble choir (S.S.A.) and organ   
Duration 11 minutes. Text in Latin.   
LISTEN: from "Sanctus"   
Commissioned by Saint Thomas Church Fifth Avenue, New York, for the Boys of Saint Thomas Choir and choirmaster Gerre Hancock.   
The Missa Brevis (No. 2) consists of Kyrie, Gloria, Sanctus/Benedictus, and Agnus Dei. It has been performed regularly at Saint Thomas Church since its introduction to services in 1990. 
Cleanly Wantoness ("Six Herrick Songs")
for choir S.A.T.B. a cappella   
A concert piece (not sacred, but not profane).   
Duration 15 minutes. Text in English.   
Robert Herrick (b.1591) was an English clergyman and poet in the era of Charles I, known for his brief, often witty poems. He was also a lifelong bachelor. Scholars believe that most of the women in his poems were fictitious - adding, perhaps, poignancy and whimsy to his lyrics of "cleanly wantonness."   
The composition comprises six poems, which are conceived as a whole but may also be performed separately. The finale is Herrick's most famous verse "To the Virgins, to Make Much of Time" (better known by its first line, "Gather ye rosebuds while ye may"). Other highlights include "Love Me Little, Love Me Long," set to simple, affecting music, and "Upon Julia Washing Herself in the River," which divides the voices into 8 or more parts in an impressionistic style.